Pumpkins galore : The best pumpkin recipes of the autumn
I have never missed pumpkin so much as when I came to Paris. That doesn't mean that I haven't been eating pumpkin, in fact the craze of "Pumpkin Spiced Lattes" have now arrived to French Starbucks, despite the price, and I was recently treated to Pumpkin Soup by my host family. Having said that, Americans seems to be going all out with the pumpkin recipes, and since I'm dying of jealousy, I decided to compile some of the best for you here:
1. Your very own Pumpkin Spiced Latte
Let's face it, Starbucks is delicious but a tad bit expensive, especially when you have a Pumpkin Spiced Latte addiction. So why not just make your own?
This recipe
 is not only delicious looking, but also is lower in calories than your average Pumpkin Spice, so you can drink two!
2. Pumpkin Ravioli with sage butter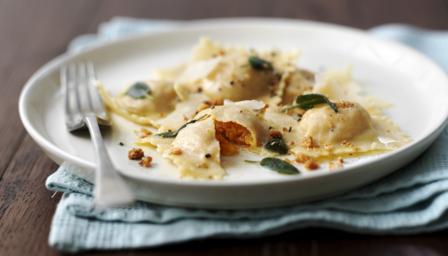 I was a little bit suspicious by this Pumpkin Ravioli at first but then I thought what better way to celebrate the autumn but with some comfort food that also has pumpkin in it!  Plus, how impressed would your friends be? And if you want to go for something a little bit easier, why not this Pumpkin Lasagna recipe?
3. Pumpkin soup
What really got me started on this Pumpkin envy was originally Pumpkin soup, so I decided to find for you not only a soup recipe, but one with it's very own Pumpkin Bread. How amazing is that? I'm personally not a bread baker, but now I really want to be so I can eat this for lunch everyday.
4. Chocolate Chip Pumpkin Cookies
Honestly, I don't know what's a better combination than this: chocolate, cookies and pumpkin. And with the glaze, you can add Halloween and autumn related decorations!
5. Roasted Pecan Pumpkin Butter
Have you ever wanted to make your own spread for your sandwiches? Or, more importantly, did you finish all the peanut butter? Well, now you can make your own spread with pecans, pumpkins and maple syrup! The best thing about this recipe is that it is easy to make and requires few ingredients, so you can always make more.
6. Pumpkin Cheesecake Chocolate Cups.
Is it just me or do these Pumpkin Cheesecake Chocolate Cups look like Reeses Pieces Peanut Butter Cups? And there are only five ingredients! Meaning, you can seem super fancy and inventive whilst easily making a twist on an old classic.
7.  Pumpkin Pie Rice Krispie Treats
Every since I was a child, I loved Rice Krispie squares. What I love about this recipe is that is an old favourite thats perfect for the season. On top of that, for anyone like me who doesn't eat gluten, you don't need to alter the recipe to eat it!
8. Cinnamon and Sugar Roasted Pumpkin Seeds
I don't know about you but I try to use every part of the fruit, vegetable or whatever when I'm cooking. So I loved this pumpkin seeds recipe which means that I can buy a pumpkin, carve it out and use everything for something useful. Plus, what a delicious snack to bring to class!
After reading all of these recipes, maybe it's a good thing I am in France or it would definitely be bye-bye to staying thin! But, the variety of recipes for just one ingredient is very exciting. The recipes that I have posted here are just the tip of the iceberg of a variety of exciting and differing recipes. So, why don't you have a try at one of these and tell me how it goes!
Discuss This Article
Get Top Stories Delivered Weekly